Marine Life Saving Equipment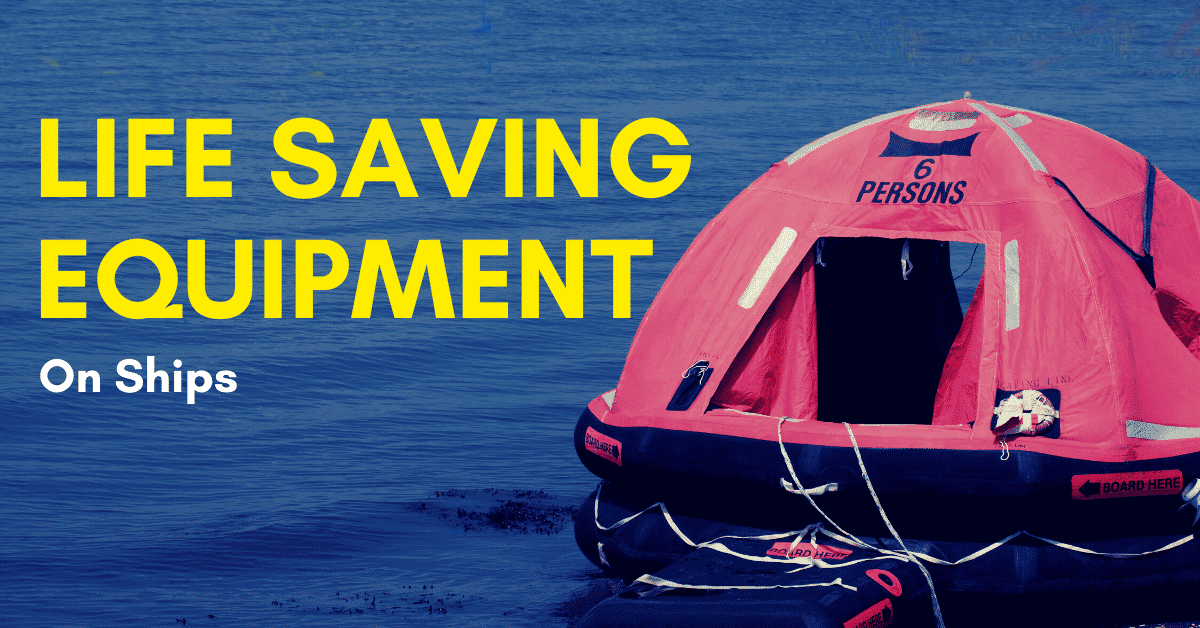 Marine life-saving equipment is a general term of special equipment and its accessories set up on the ship to rescue the drowning personnel or evacuate the crew when the ship is in distress.

It includes rescue boats, lifeboats, liferafts, buoyant devices, personal life-saving equipment, life-saving throwing device, communication, pyrotechnic signal and boarding and landing devices of boats and rafts.
General Requirements For Marine Life-saving Equipment:
1. It can be used immediately in case of emergency, and the equipment is available when berthing and sailing;
2. Store in the air temperature range of - 30 ℃ to 65 ℃ without damage;
3. Immersed in seawater, it can be used in the temperature range from -1℃ to 30℃;
4. It can prevent corrosion and corrosion, and is not affected by seawater, crude oil and mould invasion;
5. Exposure to sunlight should be able to resist aging and deterioration.
6. The part which is helpful to detect has bright and easy to see color;
7. Paste retroreflective material at the position conducive to detection;
8. Clearly mark the approval data, including the approval authority and any operation restrictions;
9. The competent authority shall determine the service life of life-saving equipment that is easy to be aged and deteriorated.
Configuration Of Marine Life-saving Equipment
According to the 1983 amendment to the International Convention for the safety of life at sea, 1974, passenger ships and fish processing vessels engaged in non short international voyages shall be equipped with lifeboats with a total capacity of not less than 50% of the total number of persons on board. The competent authority may allow liferafts of equal total capacity to replace lifeboats, but each side shall be equipped with enough lifeboats to accommodate no less than 37.5% of the total number of persons on board At least one rescue boat shall be provided on each side for passenger ships of 500 gross tons and above.
For cargo ships
: in addition to the above requirements, each ship shall be equipped with at least one rescue boat. If the lifeboat meets the requirements of rescue boat, it is allowed to use it as rescue boat.
For cargo ships less than 85 meters in length, the total capacity of liferafts equipped on each side is 100% of the total number of personnel on board.
If such liferafts cannot be quickly transferred to either side for landing and launching, additional liferafts shall be provided so that the total capacity available on each side can accommodate 150% of the total number of persons on board.

Number of life jackets: one for each person on board, one for each person on duty in the cab and engine room. Lifejackets for 5% of the total number of people on board should also be attached to passenger ships.
Lifebuoys are equipped according to the type of ship and the length of the hull, not according to the structure of the ship.
Allocation of buoyancy apparatus: it is mainly equipped on passenger ships sailing in class I navigation area, which is 3% of the total number of crew and passengers.

According to the new provisions of the 1983 amendment to the 1974 International Convention, the number of red parachute rockets and the addition of two orange smoke Rockets should be increased to four life rafts (i.e. type a rafts) equipped on ocean going ships.
All marine vessels shall be equipped with portable radio stations for lifeboats and rafts, which shall be kept in the driver's cab or radio station at ordinary times. When the ship is abandoned for life, it shall be carried into the boat or raft by special personnel according to the deployment schedule.
For international Voyages:
if the total number of passengers on board is more than 199 but less than 1500, at least one motor lifeboat shall be equipped with a radio station.
The radio station shall be installed in a special cabin inside the ship and equipped with special battery power supply, and the engine of the boat shall be equipped with a generator for battery recharging.
Lifeboat portable radio: it is a small radio station powered by hand. It is installed in a glass fiber container with orange yellow shell. It can be put into water from 15m height without damage and can float on the water surface. The total weight is not more than 23kg.
Each ship shall be equipped with 4 throwing rockets and 4 throwing cartridge cases.
Main Types Of Marine Life-saving Equipment
1. Life saving vehicles: refer to lifeboats, liferafts, rescue boats and buoyancy apparatus, etc;
2. Personal life saving equipment: life buoy, life jacket, life jacket, anti riot clothing and thermal insulation equipment, etc;
3. Visual signal: refers to rocket parachute signal, handheld flame signal and floating smoke signal, etc;
4. Storage, boarding, landing and recovery equipment: it refers to all kinds of landing equipment (including davit and boat winch), life raft frame, boarding ladder and marine evacuation device, etc;
5. Rope throwing equipment: refers to rope throwing device and rope throwing gun, etc;
6. General emergency alarm system and cable broadcasting system;
7. Wireless life-saving equipment: refers to two-way VHF radio telephone equipment, radar transponder and emergency radio position indicator of life raft, etc.
www.bozhou-int.com | Marine Light