The wave of layoffs in the United States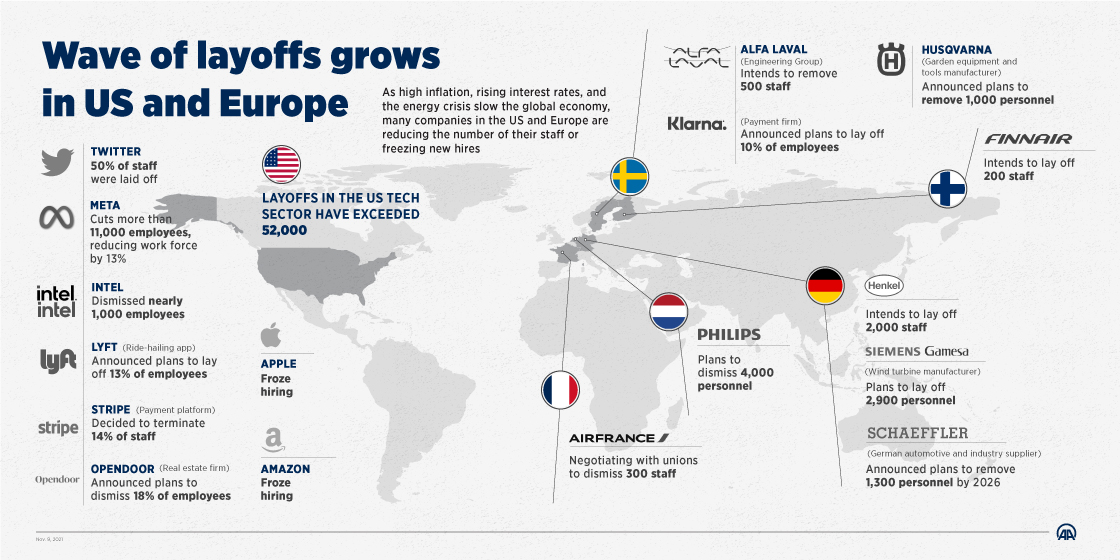 Since the beginning of this year, technology companies such as Amazon, Apple, Intel, and Twitter have successively announced job freezes or layoffs. According to Bloomberg, the number of layoff announcements in the United States in October increased by as much as 48% year-on-year, and more layoffs are "on the way."

According to CCTV news, Twitter has launched a large-scale layoff process. This time it may lay off about 3,700 people, accounting for half of the total number of employees.

Twitter also stated that the Twitter offices in San Francisco, USA and London, UK will be closed. After the offices are closed, access to any access cards and other documents will be suspended to ensure the security of every employee, Twitter system and customer data.

Amazon, On November 3, local time,the world's largest online retailer, announced that it had decided to suspend the recruitment of new employees due to the deteriorating macroeconomic outlook. Earlier last month, the company had just announced it would freeze hiring at its retail operations.

Intel, at the end of October, CEO Pat Kissinger said in an interview that Intel will begin targeted layoffs and make other adjustments, including reducing factory working hours, in response to the economic downturn.

Micros0ft Earlier, announced that it would lay off no more than 1,000 employees across the company, involving multiple departments such as Xbox, strategic missions, and technical organizations. In July this year, Micros0ft said it planned to cut 1% of its more than 200,000 employees. .

Google, also reported layoffs. Half of the employees at Google's startup incubator Area120 will need to find other jobs within the company within 90 days, according to people familiar with the matter.

Alphabet, Earlier, Sundar Pichai, CEO of Google's parent company Alphabet, had said that he would slow down hiring for the rest of the year and hoped to increase the company's productivity by 20%.

Apple On November 3, local time, Bloomberg reported that Apple has currently suspended recruitment for many positions except for the research and development department. This move is a further upgrade of a plan to reduce next year's budget.

Lyft, the U.S. ride-hailing company, announced it would lay off 13% of its workforce in a broader cost-saving effort, after cutting 2% of its workforce this summer and freezing hiring.

Seagate, the world's largest computer hard disk manufacturer, also plans to lay off about 3,000 employees worldwide, accounting for 8% of its total global workforce. It is expected to save about 110 million US dollars per year starting from this fiscal year.

Citibank At present, the wave of layoffs has begun to sweep Wall Street. According to a CNBC report on the 9th, Citibank plans to lay off about 50 trading jobs this week. Citigroup also cut dozens of jobs in its investment banking unit as M&A activity slowed, Bloomberg reported earlier.

London-based Barclays also cut about 200 jobs in its investment banking and trading divisions this week. Morgan Stanley Bank of the United States is also planning to lay off workers.

On November 10 local time, the U.S. Department of Labor released data showing that the U.S. Consumer Price Index (CPI) rose by 0.4% month-on-month and 7.7% year-on-year in October this year. Some economists analyzed that although the data show that the inflation situation in the United States has improved, there is still a long way to go before returning to normal. How the Fed makes decisions in the process of controlling inflation will have a huge impact on the US and global economies.
www.bozhou-int.com | Marine Light